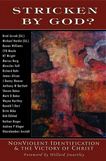 Continuing in our series of guests on the podcast, Ray welcomes Brad Jersak to Beyond the Box.  This 2-part discussion revolves around the topic of a book edited by Brad entitled "Stricken by God?" which discusses atonement theories alternative to Penal Substitution.
Bringing insight to some passages that are often skimmed over, Brad shares thoughts about the atonement that are sure to make you think! While the Penal Substitution theory of the atonement posits that the Father poured all of his wrath out on his own Son during the crucifixion, Brad offers thoughts that maintain a consistency between a Father who is very loving and compassionate and a Son's death that is brutal and violent.
Isaiah 53 says that we esteemed him (Jesus) stricken by God. In other words, it appears that is not the correct view, but rather our misunderstanding of what took place.  That phrase serves as the basis for Brad's book and this discussion.
Podcast: Play in new window | Download (Duration: 1:28:08 — 80.7MB) | Embed