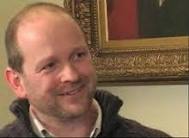 Fresh from the release of the second edition of his book, The Evangelical Universalist, Robin Parry pays a visit to Beyond the Box to talk to Steve about the current state of acceptance of Christian Universalism in evangelical circles and the effect this has had on other areas of theology within the body of Christ.
Originally written under the pseudonym "Gregory MacDonald" for reasons Robin has shared publicly elsewhere and also mentions here in this interview, The Evangelical Universalist has been a great resource for many who have allowed themselves to imagine a God who does ultimately reconcile all of mankind to himself in the end.
While this episode does not seek to defend Ultimate Reconciliation (we've devoted a number of episodes to that in the past), the discussion revolves more around the controversy (or surprising lack of it!) regarding Christian Universalism, the direction in which evangelicalism might be headed now that there is a wider acceptance of what some view as out-and-out heresy, and even some pressing questions from Steve regarding other possible pseudonyms of Robin Parry. 😉
Apologies for a Skype connection that sometimes made it challenging to catch all of Robin's thoughts, but the overall content of the episode will certainly encourage many who are on a similar path of understanding Christian Universalism.
Podcast: Play in new window | Download (Duration: 57:53 — 53.0MB) | Embed